Overview
A 20mph speed limit zone in All Saints Road, Angel Hill Drive, Aultone Way, Avon Close, Benfleet Close, Benhill Road, Benhill Wood Road,  Betchworth Close, Bramley Road, Brunswick Road, Burnell Road, Calthorpe Gardens,  Chilworth Gardens, Chudleigh Gardens, Constance Road, Cressingham Grove, Danescourt Crescent, Duchess Close, Duke Street, Edinburgh Road, Elgin Road, Glena Mount,  Godstone Road, Greenhill, Grennell Close, Grennell Road, Hillview Road,  Ivydene Close, Jengar Close, Kendal Gardens, Keswick Close, Lewis Road, Longford Gardens, Lower Road,  Milford Grove, Monksdene Gardens, Montpelier Road, Montrose Gardens, Munslow Gardens, Oak Close, Oakhill Road, Oliver Road, Palmerston Road, Princes Street, Rose Hill Park West, Roseacre Close, Rosebery Gardens, Rosehill Gardens, St Barnabas Road, Stanmore Gardens, Thicket Crescent, Thicket Road, Upper Vernon Road, Vernon Road, Vine Close, Waverley Avenue, William Road, Woodend and Woodside Road.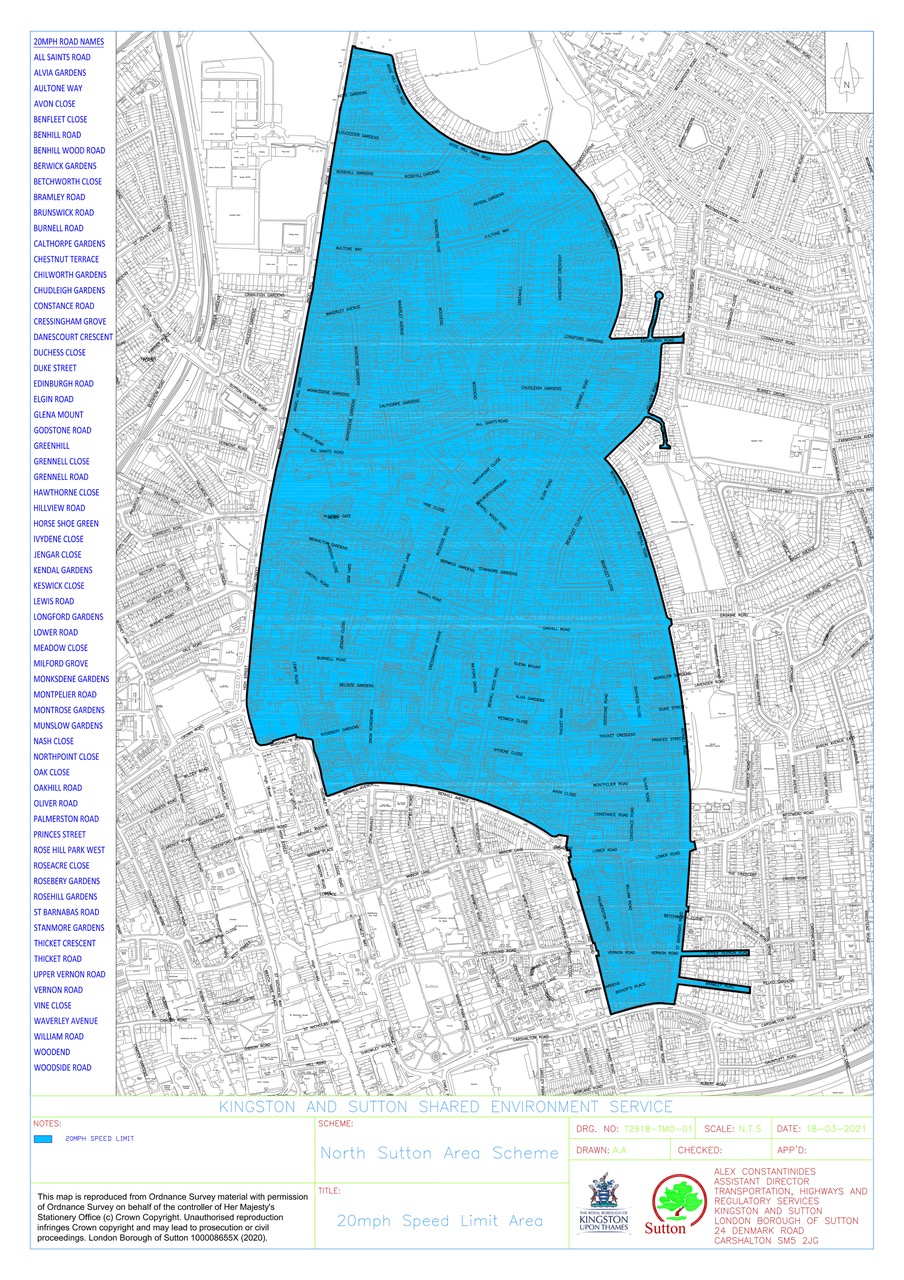 This is a statutory consultation which commences Thursday 25th March 2021 and will conclude Thursday 15th April 2021.
Why your views matter
The trial Low Traffic Area scheme in the Sutton North area was recently removed. The trial 20mph speed limit was however popular, so it has been decided to keep this operating in your area while officers consult residents on making it permanent. 
You will be notified of the outcome of the consultation and next steps in due course.
This consultation will remain open until midnight on 15 April 2021.
For more information on how Sutton processes your personal information please visit our Privacy Notice (opens in a new window). Any comments you make may be made public on the Council's website however we will remove any personally identifiable information.