Overview
Sutton Council is committed to making the streets outside our schools safer and healthier for our children. One way of doing this is to introduce School Streets.
School Keep Clear markings were first established in the 1964 Traffic Signs Regulations, and keep the space outside of schools free from parked vehicles so that children can be seen more easily when crossing the road. In 1964 there were fewer than 7 million vehicles on the road, today this figure has increased to more than 38 million. School Streets are a twenty-first-century solution. They extend the original principle by closing the road outside a school to motor vehicles during drop-off and pick-up times. Access restrictions do not apply to residents and the schemes only operate during term time.
Across the UK, roads become congested with traffic during the school run. In London, as much as 25% of rush hour traffic is made up of vehicles travelling to school. Collisions, driving too fast, inconsiderate or unlawful parking and pollution from motorists idling their engines are well-known issues in the roads surrounding schools. 
From other boroughs' experiences, residents of School Streets experience lower volumes of traffic, fewer instances of inconsiderate parking and improved air quality.
We know that children are among those most affected by high air pollution levels. Air pollution has been linked to asthma, heart disease and can impact lung development. Meanwhile using active forms of travel like walking and cycling have excellent benefits not only for the environment but also for the health of our residents.
But we acknowledge the predicament parents, guardians and carers face. While traffic makes the roads unsafe, they often feel they have no choice but to drive their children to school.
That is why we want to help support families to switch to active travel to school by making it clear that motor vehicles have no place outside school gates.
The proposed School Street in your area would help make the road safer and calmer for pupils at school start and finish times, reinforcing the principles of 'school keep clears' and encouraging more sustainable modes of transport to and from school.
Robin Hood Junior School has been active in promoting walking, scooting and cycling and reducing car use at school run times. The school administration has expressed their support for a school street scheme in their area to help further reduce car use and increase walking and scooting.
What are the details of the Robin Hood Junior School Streets scheme? 
The suggested closure point is Thorncroft Road at the junction with Greenford Road. Roads will remain open to pedestrians and cyclists.
The School Street scheme would operate Monday to Friday in term-time only and not at weekends or during school holidays. The suggested times of closure are 8.20-9.30am and 2.15-3.45pm
It is suggested that the scheme would be enforced with a static ANPR (automatic number plate recognition) camera.
It is suggested that, if you are a resident of Greenford Road or of Thorncroft Road south of the junction with Greenford Road you would be exempt from the restrictions, and would be able to enter and leave during the restricted times. 
Sutton Council will be conducting an equalities impact assessment (EQIA) on the School Streets schemes, as well as consulting with community groups and stakeholder organisations (such as the emergency services) to draft an exemption policy. A proposed policy for wider exemptions will be brought to the Environment and Sustainable Transport Committee for approval on 24 June 2021 and your feedback will be considered in its formation.
However, we will ask any drivers permitted to enter the scheme to try and plan their arrivals and departures outside of the closure times. This reduces the number of vehicles accessing the street while families are arriving at or leaving school and will help the scheme to operate more effectively.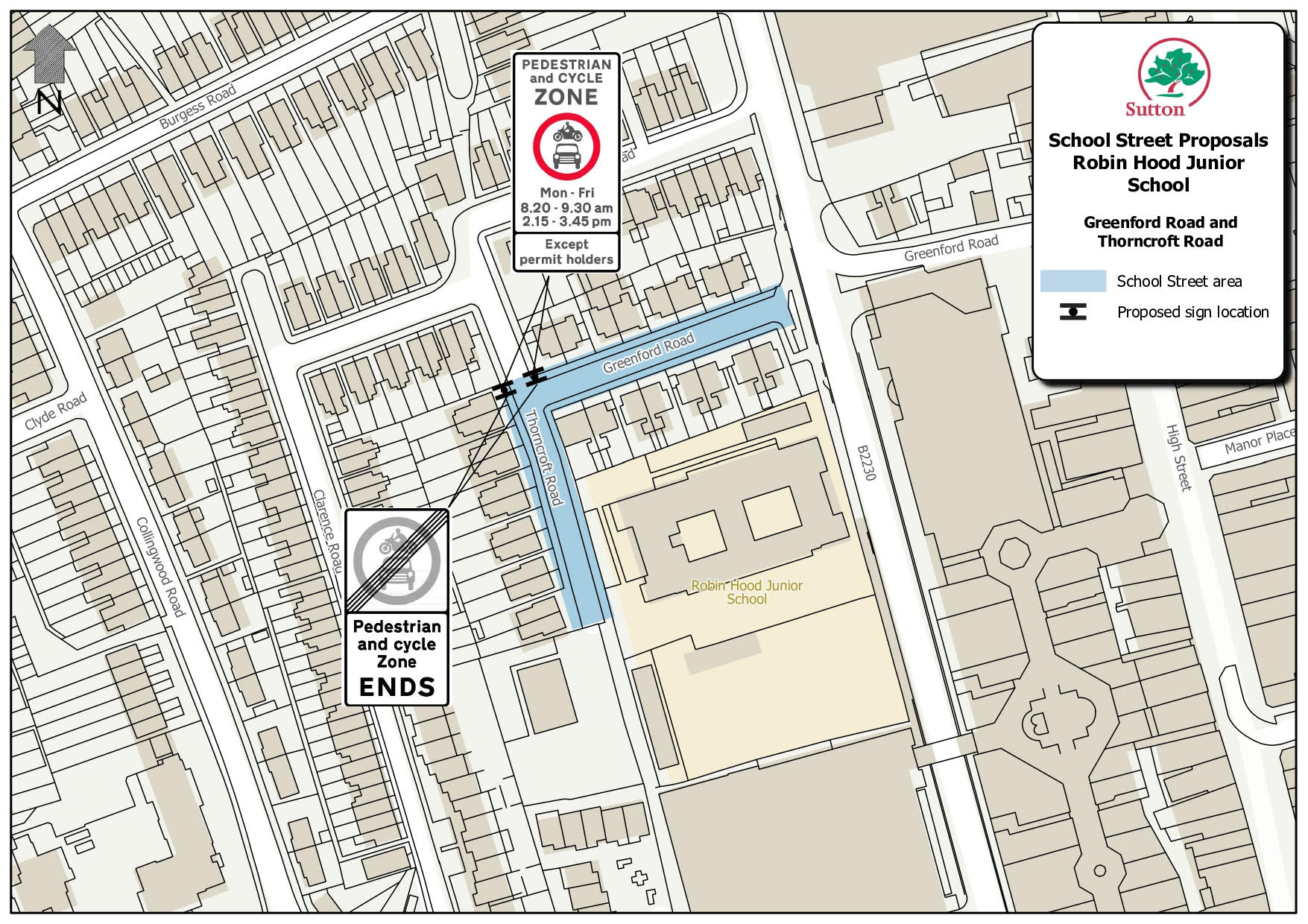 Why your views matter
Background
Sutton Council trialled temporary School Streets in a number of areas across the borough last Autumn. These were initially suspended after the recent national lockdown restrictions and then a decision to remove the trial schemes was approved by the Environment & Sustainable Transport Committee in February. While there has been clear evidence of their positive benefits, we also know from the feedback we have received that not all aspects of the experimental schemes were supported. We have taken these responses into account and revised the scheme design.
Where can I find out more?
For more information about this and other highways improvements go to sutton.gov.uk/saferstreets (opens in a new window).
Tell us your views! 
We are going back out to consultation to determine if our proposals have support. The consultation will be open from Monday 15 March to Sunday 4 April. During this time, we will welcome all feedback from residents, schools, parents and guardians, community and stakeholder organisations and local businesses about the scheme.
There will then be a final statutory consultation in the summer, with a view to approved schemes going live in the borough in Autumn 2021.
The survey should only take about 10 minutes to complete. All responses are anonymous and any responses or any personal information will not be passed to third parties. For more information on how Sutton processes your personal information please visit our Privacy Notice (opens in a new window). Any comments you make may be made public on the Council's website however we will remove any personally identifiable information.