Overview
I am committed to supporting our local communities, in particular those who are most vulnerable, during periods of significant change and in ensuring that our residents have the opportunity to contribute and influence our decision making.
Council Tax Benefit has previously been funded by the Department for Work and Pensions but from 1st April 2013 the Council will take responsibility for this, but with 10% less funding.  This means we need to think about how we can deliver a fair and accessible Council Tax Benefit Scheme with about £1.4m less.
This is where I need your help.  We have put a number of options together where we can make changes to Council Tax Benefit, but I want to know what you think.  It's important to me that we protect the most vulnerable in society, so any proposed changes will not affect pensioners, disabled claimants or their partners, and families with dependent children under 5 years old.  But, I need you to tell me how the options will impact on other groups and in which way. Giving us your view will help determine the scheme we can put in place with the least impact on other vulnerable residents.
We are planning to talk to as many people as possible about these changes and details of how you can get involved and share your views are contained within this document.
I'd like to stress that no decisions have been made about which options we will take forward.  Your views will help shape the local Sutton Council Tax Benefit scheme that we put in place.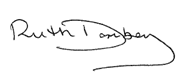 Councillor Ruth Dombey
Leader of the Council
Why your views matter
The Government plans to abolish Council Tax Benefit from 1 April 2013 and has asked all local authorities to develop a local scheme of support for customers on low incomes with help towards paying their Council Tax.
Council Tax Benefit has previously been fully funded; however, the Government has decided that the funding available for local schemes of Council Tax Support will be reduced. In Sutton this means we will have to save £1.4 million next year. It is likely that further savings will be required over the next few years, as more residents may require help to pay their council tax.
The Government is also allowing local authorities the power to amend some existing discounts and exemptions. Making some changes to discounts such as those for empty and unfurnished properties or those applied to second homes may help the Council to offset the amount of savings required.
These are challenging and difficult times for local government but here in Sutton we are committed to ensuring that our residents have the opportunity to get involved and tell us what they think about the proposed changes. Therefore, we will consult with you from 26 June 2012 to 17 September 2012 to get your views on what the new Council Tax Support scheme will be and what changes we should make to the Council Tax discount and exemptions.
To view full documents on this consultation visit the council website: https://www.sutton.gov.uk/index.aspx?articleid=16358